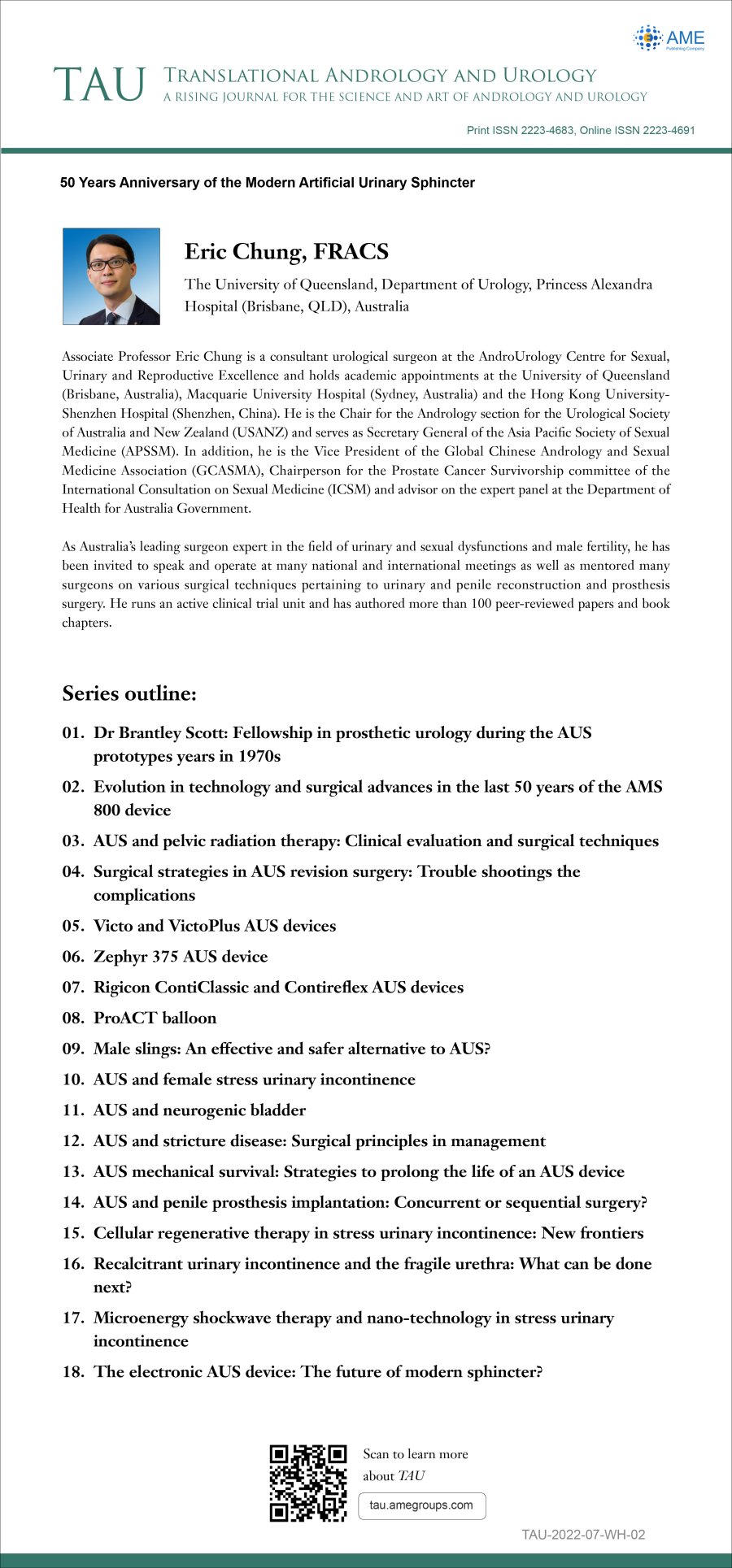 This special series on "50 years anniversary of the modern artificial urinary sphincter" is edited by Dr. Eric Chung from Princess Alexandra Hospital (Brisbane, QLD), Australia.
Eric Chung, FRACS
The University of Queensland, Department of Urology, Princess Alexandra Hospital (Brisbane, QLD), Australia
Associate Professor Eric Chung is a consultant urological surgeon at the AndroUrology Centre for Sexual, Urinary and Reproductive Excellence and holds academic appointments at the University of Queensland (Brisbane, Australia), Macquarie University Hospital (Sydney, Australia) and the Hong Kong University-Shenzhen Hospital (Shenzhen, China). He is the Chair for the Andrology section for the Urological Society of Australia and New Zealand (USANZ) and serves as Secretary General of the Asia Pacific Society of Sexual Medicine (APSSM). In addition, he is the Vice President of the Global Chinese Andrology and Sexual Medicine Association (GCASMA), Chairperson for the Prostate Cancer Survivorship committee of the International Consultation on Sexual Medicine (ICSM) and advisor on the expert panel at the Department of Health for Australia Government.
As Australia's leading surgeon expert in the field of urinary and sexual dysfunctions and male fertility, he has been invited to speak and operate at many national and international meetings as well as mentored many surgeons on various surgical techniques pertaining to urinary and penile reconstruction and prosthesis surgery. He runs an active clinical trial unit and has authored more than 100 peer-reviewed papers and book chapters.
Series outline:
Dr Brantley Scott: Fellowship in prosthetic urology during the AUS prototypes years in 1970s
Evolution in technology and surgical advances in the last 50 years of the AMS 800 device
AUS and pelvic radiation therapy: Clinical evaluation and surgical techniques
Surgical strategies in AUS revision surgery: Trouble shootings the complications
Victo and VictoPlus AUS devices
Zephyr 375 AUS device
Rigicon ContiClassic and Contireflex AUS devices
ProACT balloon
Male slings: An effective and safer alternative to AUS?
AUS and female stress urinary incontinence
AUS and neurogenic bladder
AUS and stricture disease: Surgical principles in management
AUS mechanical survival: Strategies to prolong the life of an AUS device
AUS and penile prosthesis implantation: Concurrent or sequential surgery?
Cellular regenerative therapy in stress urinary incontinence: New frontiers
Recalcitrant urinary incontinence and the fragile urethra: What can be done next?
Microenergy shockwave therapy and nano-technology in stress urinary incontinence
The electronic AUS device: The future of modern sphincter?
Disclosure:
The series "50 years anniversary of the modern artificial urinary sphincter" was commissioned by the editorial office, Translational Andrology and Urology without any funding or sponsorship. Eric Chung is serving as the unpaid Guest Editor for the series.